Sedona Gathering & Advanced Courses
September 28 through October 3, 2018
Travel & Lodging Tips
Getting to Sedona
Although there is a small airport in Sedona, there is no commercial airline that flies directly into Sedona. The nearest airports to Sedona are the Flagstaff airport (1 hour from Sedona) and the Phoenix airport (2 to 2.5 hours from Sedona). From either airport, you'll need to rent a car and drive to Sedona, or book passage on an airport shuttle.
The advantages of flying in and out of the Phoenix airport are that you will get better pricing on airline tickets and have much more flexibility with flight times.
The advantages of flying into Flagstaff is that it's much closer to Sedona, the drive to and from the airport is spectacularly beautiful, and the airport is very small so it's a very quick, and stress free baggage collection process when you arrive and a super-easy and fast security and check-in process on the day you depart.
Another advantage of flying into Flagstaff is that the car rental rates are usually much lower than Phoenix Airport car rentals due to the difference in Phoenix Airport taxes (very high). The major car rental companies have counters in the Flagstaff airport next to the baggage claim area, and because the airport is so small, pick-up and check-in of your rental car is very fast and easy.
Renting a car is highly recommended
Having your own car for the few days or week that you'll be visiting Sedona gives you lots of flexibility and also gives you the means to explore Sedona and the Verde Valley area.
There are a couple of taxi services available in Sedona, so that is another option for getting around to see some of the sites, visit shops and galleries, get to hiking trailheads, etc.
If you don't have a desire to explore the town or nearby areas, and just want to get to and from the training locations for the Gathering and advanced classes, plenty of students will have cars, so ride-sharing will not be a problem. All you need to do is to get yourself to Sedona!
Lodging tips
Classroom training and field experiences for the Gathering and for the advanced workshops will be conducted in Sedona or nearby Page Springs.
There are many lodging options in Sedona and close by to suit any budget and lodging preference. Within the city of Sedona, there are many hotel resorts, motels, B&Bs, vacation home rentals, and one RV park. In the Village of Oak Creek, which is like a suburb of Sedona about 15 minutes away, there is one additional hotel resort (Hilton), several motels and boutique inns, numerous B&B's, and many vacation home rentals. The city of Cottonwood (25 minute drive to central Sedona) has a multitude of lodging options as well.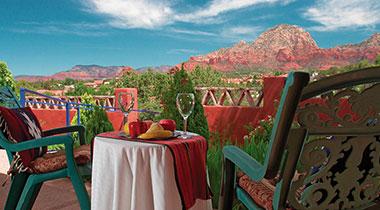 Your best resource for selecting a hotel or motel is Trip Advisor, where you can see all your options in the various locations, get pricing, check availability, and also read visitor reviews.
For hotels/motels within the city of Sedona, another excellent resource is the Chamber of Commerce website, although do be aware that only Chamber Members are listed on the site.
For room rental in private homes in Sedona, AirBnB is the best resource.
If you are staying for the full week or longer, another great option to consider is the rental of vacation home. Visit www.vrbo.com to check out pricing, options, and availability of hundreds of Sedona rentals.
For RV travelers and campers, Rancho Sedona is an excellent RV park, right in the heart of Sedona. A short distance away in nearby Page Springs (15 minute drive from Sedona) is the Lo Lo Mai Springs RV Resort, which is also an excellent park and has small cabin rentals available and tent campsites, too.